This Week in MLC@Home
Notes for May 1 2021
A weekly summary of news and notes for MLC@Home
Summary
An overdue update this week.
First, we had a small server issue this morning, 5/1, and were down for about 10 hours until it was fixed. No data was lost, and we were able to restart with no further issues, although there may be some WUs that were marked invalid due to the unstable state of the system as it was going down, we're looking into that at the moment. It's the first bit of unscheduled downtime in long time. Fortunately we've been very stable since moving to the new server last year.
Second, thanks to an astute user, we've noticed a trend in newer Linux distributions that effects the MLC clients (as well as others like Einstein@Home and LHC). Some distributions are using systemd's sandboxing capabilities to limit the BOINC client and any project applications from interacting with the rest of the system for security reasons. Unfortunately, MLC's appimage-based clients use /tmp, which is now restricted under this new policy. We've identified this as an issue with Ubuntu 21.04 and Gentoo, and may become an issue further down the line for other systemd-based distributions. For now, there's a workaround listed in our forums
https://www.mlcathome.org/mlcathome/forum_thread.php?id=198
. The next client update will drop appimage support and thus won't be effected by the issue going forward.
We've also spent some time working on the ROCm client, and have it working with Radeon VII as well as VEGA graphics card. Unfortunately, the current client requires you to have rocm-3.9.0 installed on your system.
Speaking of the next client version, DS4 support is implemented and works, so we hope to roll out the new CPU client with some test WUs this coming week. Features include CNN (DS4) support, static linking, (no more appimage!), and some more minor fixes.
Other News


Lots of great progress on DS3, we're ~80% complete. It's nice to see some green showing up on the scoreboard.

We participated in weeks 2 and 3 of the BOINC workshop, and look forward to the workshop posting the videos soon.

We're looking for conferences/workshops to submit our published paper.

Reminder: the MLC client is open source, and has an issues list at gitlab. If you're a programmer or data scientist and want to help, feel free to look over the issues and submit a pull request.



Project status snapshot:
(note these numbers are approximations)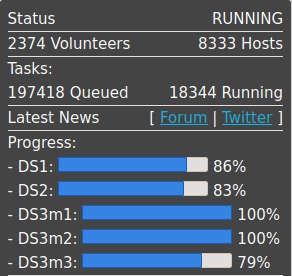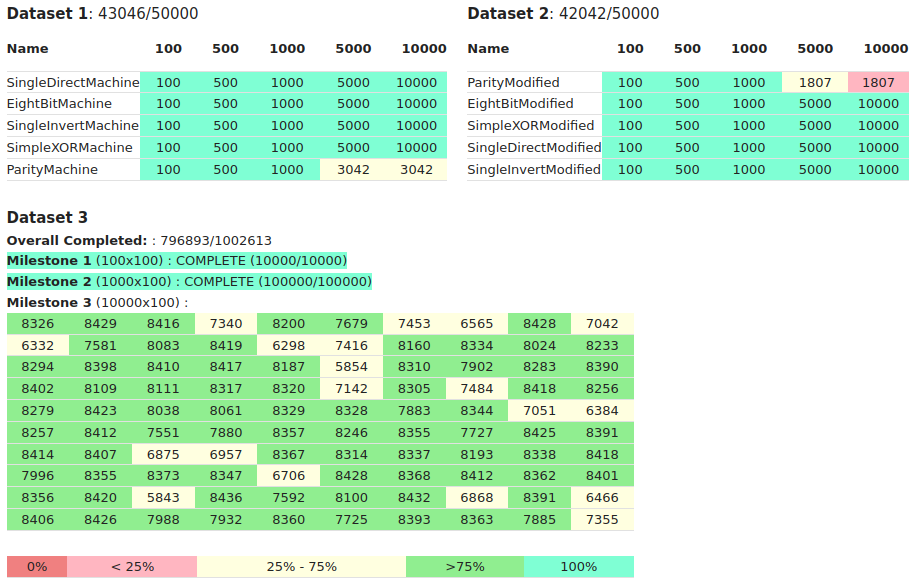 Last week's TWIM Notes: Apr 22 2021

Thanks again to all our volunteers!

-- The MLC@Home Admins(s)
Homepage: https://www.mlcathome.org/
Discord invite: https://discord.gg/BdE4PGpX2y
Twitter: @MLCHome2